Click on photos to enlarge - No wholesale on this page.


Bachelorette's Earn A Buck Cards - $4.99 Super Sale! $1.99 ea.
Pack of 20 - Click on each picture to read.


20 business sized cards Use the cards for a buck a kiss or to ask guys to dance, if they refuse, they can pay a buck! Plain business cards pictured left have bright pink writing. Click on pictures to read. Very fun and easy to make money for drinks!
---

Beat It Piñata - $15.00 Sale! $13.75
This festively decorated pinata that says "Beat It!" comes flat, empty and ready for you fill with Amusemint candies and little prizes! Measures 15" x 11" packaged in a poly bag with header card. (filler not included, see further down)
---

Happy Penis Piñata - $15.00 Sale! $12.99
Here's the lucky bride's last chance to smack around the Party Pecker Piñata! It's a full 18" long so you can fill it with lots of condoms, candies and toys that will make the girls scramble and squeal with delight! (filler not included, see further down for great stuff!)
---
Willy Whack-It Piñata - $25.28 Sale! $21.99
Make a funny face on your piñata with included stickers or add your own disguise (not included) like the picture shown. Holds a little less than other piñata. Approximately 16 inches long. See below for great things to stuff with.
---

Adult Piñata Stuffers (Candy & Toys) - $34.99 (2 lb bag)
Sold in 2 pound bags, our assortment of piñata stuffing is loaded with fun candies and may contain an erotic assortment of candy love beads, naughty shapes candy, penis whistles, candy with plays on words (like from our adult treat mix below), flavored lubes, condoms, oral sex treats, straws, pens, games, gum, mints and standard piñata candy.
---

Adult Candy & Treat Mix - $27.99 (1 lb 12 oz bag)
Perfect for piñatas, stocking stuffers, swingers' parties or just because you couldn't resist. A big gift bag tied with ribbon may contain depending on what kind of mix you select: Edible flavored lube, chocolate body sauce, flavored condoms, assorted female and male gummy and hard candy lollipops, AmuseMints with naughty messages and related fun candy with plays on titles such as: Big Hunk, Blow Pops, Whoppers, Now and Later, bubble gum & candy cigarettes, bubble gum cigars, candy lipstick, coconut Long Boys, Good n' Plenty, Cherry Heads, Red Hots, Hot Tamales, Slap Sticks, Bit-o-Honey, Atomic Fire Balls, Wax Lips, Sugar Daddy, gummy lips, Sweet Tarts, Slo Poke, Hot Dog gum, gummy cock ring, etc. Choose for a mixed adult party or just for guys, gals, gay guys or lesbians. Approx. 1 pound, 12 oz.
---

Piñata Candy - $4.49 (1 lb bag)
Sold in 1 pound bags, our candy assortment has lots of really good assortments and flavors and might contain lollipops, Tootsies, sour candies, licorice, taffy, bubble gum coins, fruit hard candy, candy shells, Jelly Belly Twists, Gliteratti, Putini, money mints, Blo-Pops and more. Candy mix varies at times. There are no adult candies or adult novelties in this package.
---

Bachelorette Party Barf Bag/Loot Bag - $5.49
Stash all your goodies in these cute and clever bags! Great for when the party girl has had a little too much of a good thing! 8 bags.
---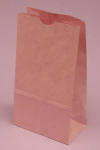 Treat Bags - $2.50
Stash all your goodies or fill with gifts for the girls in these glossy light pink or black paper bags! 12 bags.
---

Satin Blindfold - $6.50
More styles, click here! A great keepsake for the bachelorette's honeymoon! Package design may vary.
---

Pin the Macho on the Man - $12.50 Sale! $11.00
Comes with a large assortment of peckers to stick on. A must-have for any party!
---


Pin the Hose on the Fireman - $11.50 Sale! $10.00
Two 36" x 24" posters in one of these two gorgeous hunks with 12 hoses to stick on!
---

Pin the Junk on the Hunk - $11.50 Sale! $9.49

A naughty spin on the classic pin the tail on the donkey game, this modern day hunk is missing his junk, so get the party started by giving it to him, the way you want it, with any of the 15 hysterical cut-out penis "interpretations. 24" x 36" poster with 15 game pieces. Don't Forget the Blindfold - See above!
---

Pin the Cock on the Jock - $11.50 Sale! $9.49

A naughty spin on the classic pin the tail on the donkey game, this modern day hunk is missing his junk, so get the party started by giving it to him, the way you want it, with any of the 15 hysterical cut-out sports related penis "interpretations" . 24" x 36" poster with 15 game pieces.
---

Pin the Torpedo on the Sailor - $11.50 Sale! $10.99

Two sexy seamen to choose from. Included 10 torpedoes, 2 mines and 2 24 x 36 posters of sexy sailors to choose from. Play just like pin the tail on the donkey! The winner gets to take home the sexy sailor!
---

Pin the Mister on the Man - $12.00 Sale! $10.59
FORGET THE DONKEY, this time players pin the "MISTER" on the man. An instant party packed into an envelope, this game contains a LIFE-SIZE poster of an illustrated stud and a hearty selection of, ahem, MANLINESS. Hilarious every time! Includes: 25 X 48-inch illustrated poster & 16 playing pieces.
---

Stick a Dick Hunk Edition - $12.00 Sale! $9.99

Pin the Tail on the Male... 12 cute willies from which to pick close your eyes then Stick a Dick. Unfold the almost life-size naked man choose your weapon from the 12 reusable sticky dicks don your mask then spin around three times and place your sticker where you think it should go. The results are hilarious. And if you are closest to the target you will be a cock-a-hoop with a clever dick sticker to prove it. You can even cut his head out and have a real male model to put the game on!
---

Stick a Dick Geek Edition - $12.00 Sale! $9.99

Pin the Tail on the Male... 12 cute willies from which to pick close your eyes then Stick a Dick. Unfold the almost life-size naked man choose your weapon from the 12 reusable sticky dicks don your mask then spin around three times and place your sticker where you think it should go. The results are hilarious. And if you are closest to the target you will be a cock-a-hoop with a clever dick sticker to prove it. You can even cut his head out and have a real male model to put the game on!
---
Pin the Widget on the Midget - $10.00 Sale! $8.25

Blindfold each player, give them a spin, and watch them try to Pin the Widget on the Midget. The player who gets their widget closest to Midge's lil' pecker wins! SUGGESTIONS: Have a few cocktails to loosen up prior to the game. Hostess visualizes which widget applies best to each guest, either by occupation, personality, etc. Follow instructions for best results. After game, use widgets as name tags. Have guests take home widgets as door prizes. Give Midget Man poster to winner! Includes: 18' x 24" Midget Man poster, 18 hilarious Midget Man widgets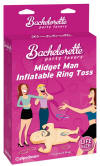 Midget Man Doll Inflatable Ring Toss - $20.00 Sale! $16.49

Life-sized midget man doll with 6 multi colored plastic rings to toss on his midget mini. Hilarious fun for all kinds of parties.
---


Dueling Dickies - $25.00 Sale! $19.99
Whack 'Em With Your Willy and Knock 'Em Silly! Choose a wanker for your weapon, blow it up, strap it on and get this sword fight started! Includes: 2 Competition Velcro Harnesses and 2 Inflatable Strap-On Peckers

Dick Head Hoopla - $20.00 Sale! $15.49

Fun ring toss game for any kind of party. Includes 2 dicks to wear on your head and 12 colorful rings.
---

Peter Pecker Doll & Game - $35.00 Sale! $30.99

Watch him 'get excited' as his 12 inch peter inflates! Ring his ding with an outrageous ring toss game. Put his burly arms and legs into any wild position. He's the perfect date for a night out or bachelorette party. Realistic imprinted face. Over five feet tall, no holes. Includes 3 rings and game ideas.
---
Inflatable Dicky Ring Toss - $20.00 Sale! $16.25

Over three foot tall. Includes six multi-colored rings to ring around the dick at your next party! Shipping surcharge may apply to Midwest and East Coast address as this product is heavy because of the weighted bottom on the pecker.
---

Light Up Dicky Ring Toss - $15.00 Sale! $11.25

The classic bachelorette game is not made to be played in the dark spectacularly! Makes a great table centerpiece too. Includes 3 glow in the dark rings and batteries. Approx. 6" x 3".
---

Pecker Ring Toss - $7.00 Sale! $5.75
6 rings to toss on this 6 incher.
---

Hot Willy - $13.00 Sale! $11.50

Hot Willy is very similar to Musical Chairs or Hot Potato. The party goers sit or stand in a circle. After winding the Hot Willy dial and setting the desired time, you then must pass the Willy around the circle as quickly as possible. At random Hot Willy will stop vibrating. If you are the one holding Willy when it stops, you are out (and take a drink, or do a dare). The last person out WINS.
---

Peni Toss - $8.05 Sale! $6.99

Spice up any party with these 2 soft paddles with heart-shaped velcro-type and plush peni-bob. It's the cutest came since Ants in Your Pants.
---

Spin the Pecker - $8.00 Sale! $6.00
The hilarious bachelorette game of spinning and sinning! Players take turns spinning the pecker and carrying out the appropriate actions: Doing a Dare, Flirting with a Guy, assuming an Alter Ego and more!.\ Cute pink pecker in center to spin around.


---

Pick Up Dicks - $10.60 Sale! $9.25

Use the Black Dick Stick to move and collect other Dick Sticks one at a time. When you bump into Dick Sticks other than the one you are trying to move, you end up doing dares, impersonations, shots, or trying to tell funny jokes. Whoever collects the most Dick Sticks wins. AND when the game is over, you can also use the Dick Sticks as cocktail stirrers! Includes: 16 Colored Dick Sticks, One Black Dick Stick, Easy-To-Follow Rules, and a Shot Glass. Great for Bachelorette Parties and Girl's Nights Out!

---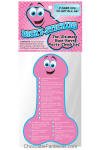 Dicky Stickies - $4.80

Make your next girls night out unforgettable with these hilarious penis shaped sticky notes. Each note is a checklist with 16 outrageously entertaining and sometimes naughty challenges for partygoers to act out. Includes a pad of 25 sticky notes. 6.5" x 4".
---

Girls Night Out Party Vows & Dares - $9.20 Sale! $8.20

Keep an ice cube down your pants until it melts . . . Pinch a guys butt . . . Fake a very vocal orgasm.

Girls Night Out Party Vows & Dares™ are a collection of hilarious dares, outrageous antics and hysterical activities designed to create lasting memories and strengthen the bond that you already share with your close friends.

This Bachelorette Bingo Game can be played by up to 17 bachelorette party guests. This fun bachelorette party game includes: 16 player cards, markers for the caller, caller board and instruction sheet. If you've ever played BINGO before, you know how much fun it can be. The phrases on the cards are really cute and this is a great game to play at your bachelorette party if you are planning on giving out prizes. Pecker Novelties, Prizes, Soaps, Pens, etc.
---

Bachelorette Drink or Dare Party Game - $6.00

Simple to play: Each girl spins and reads the drink or dare line. The bride to be gets to choose which she wants to do, either drink or do the da re. The spinner hs to do the other. The bride to be checks off every dare she completes on her score card and finds out how outta control this bachelorette scores. Watch how wild your night out can get! Includes spinner, shot glass and score card.
---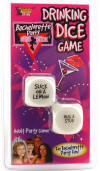 Bachelorette Drinking Dice Game - $3.00

Player must roll both dice and perform the action shown on the top of both dice. Drink a shot and fake an orgasm or take a big sip and let a stranger decide or lick a lime and hug a stud, etc. Lots of combinations.
---

Bachelorette Trivia Game - $5.00

How much do bachelorettes really know about sex and marriage? This breezy little bachelorette game is the perfect way to answer that question. Packed with 52 hilarious and entertaining questions like: Which of the following methods did ancient cultures use for contraception? Chanting, Sneezing, Bathing or Exercising. With easy to follow directions, this card game is guaranteed to spice things up for the the bride-to-be and her buddies! 52 card deck, 2.75" x 3.75" x .75"
---

Bachelorette "I Dare You!" Game - $5.00

How far will she go? Inside are 34 cards, each with a different, daring deed. Have the bride-to-be choose first and let the fun begin! These cards have some really fun ideas! One of our favorites for price and fun.
---
Bachelorette I.O.U Dare Game - $7.50

The bachelorette decides how the game will be played. The pull-tabs can either be equally distributed by the bachelorette at the beginning of the party, giving each partygoer the entire night to complete their dares, or she can take turns giving each partygoer, including herself, one dare at a time. Another alternative is to have the bachelorette choose a dare card, read it aloud, then assign the dare to the party member of her choosing. Either way, this game will get the party started and have everyone laughing all night long. Boxed game.
---

Bachelorette Charades - $12.00 Sale! $10.50

Let's face it, everyone loves charades! Keep guests laughing as partygoers act out and try to guess phrases that have one thing in common -- marriage. Perfect parties of all sizes. Contents include a sand timer and 70 bachelorette/bridal themed action cards. Measures: 7" x 5.5" x 1.5"
---

Bachelorette Roulette - $20.12 Sale! $17.50

Have fun watching your friends be daring with a real party game. Six to twelve people can play. There is one miniature roulette wheel, 37 dare cards, 2 roulette marbles and 12 score cards. Some of the sample dares are: Loudly fake an orgasm, Walk around the bar with toilet paper stuck to your foot, Get a guy to bend you over his knee and spank you! It's fun for each and every player. Dare to take a spin?
---
'Dare to Do' Checklist Game - $1.75

Bachelorette wears the checklist on her back and tries to complete all of the dares before the party is over. Party guests confirm when the bachelorette completes each item by checking the box. All items must be completed before the bachelorette is allowed to leave. Includes one 8.25 x 10.75 inch stick on sheet. Has items like: Dance on a table, collect a pair of men's boxers, dance with a bald buy, serenade someone . . .
---

Bridal Shower Dice - $4.50
The first die picks who in the wedding party is going to do what the second die commands. Like Bride - Tell a childhood memory. A perfectly tame game you can include Grandma and where everyone is a tattletale! A great icebreaker to start the party off with.
---

Bachelorette's Party Dice - $5.99
A great game for your next bachelorette party! The rules are simple: One die tells your bachelorette what to do, the other one tells her who she does it to or with! These are nice sized and they're spongy, so they don't make a racket when thrown onto the table.
---

Bachelorette Party Decision Dice - $3.75
Endless party fun possibilities. Roll the dice for what action to take and with whom! Fun for all.
---

Bachelorette Dare To Do It Activity Cards - $3.50

This challenging game will make for an unforgettable evening of laughs for everyone at the party. Points are awarded to each participant who dares to carry out crazy challenges like swapping an item of clothing with a man or drinking from a stranger's drink. The winner is the girl with the most points at the end of the evening.
---

Bachelorette Dares Card Game - $5.00
52 wild and crazy things to do at a bar, a dance club, a strip club and a sex shop for the bride-to-be and her buddies.
---

Bachelorette Bar Challenge Card Game - $5.95
Bachelorette's Bar Challenge is the game that celebrates your friend's last night out as a single gal where it should be celebrated: at a bar or club! The Bachelorette has two hours to collect five different "Shot" cards. She starts with five cards and carries out actions like "host a best rear end contest" to earn new cards. When she wins, she gets to assign shots to friends participating in the game.
---

The Best Bachelorette Party Book - $7.95
A complete guide for party planning. We're even listed in this book!
---

Miss Bachelorette Girls Nite Out! - $6.99 Sale! $5.99
The object of this outrageous party game is to collect as many points as you can by daring your friends to do some pretty wild things. Get guys to buy you drinks, get their undies, flash 'em your goods, etc. For 2 - 8 Players. 72 action cards and 2 score cards.
---

10 Bachelorette Challenges - $4.98
Contains 10 challenges the bachelorette must successfully complete and the certificates must be signed by each member of the party. These challenges must be performed in a public place such as a restaurant, bar, casino etc.
---

12 Bride to Be "Dare Me" Challenges - $3.99
12 hilariously illustrated challenges for the bachelorette and her entourage to have naughty fun with!
---
Girl's Night Out Lottery Scratcher - $2.00
Challenge yourselves to a bold time! Take turns scratching a star and go all out!
---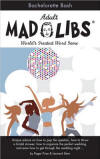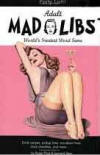 Bachelorette Bash & Party Girl Mad Libs - $4.25 ea.
Bachelorette Bash: Have a few laughs with this collection of proposals, invitations, best-man speeches and bridal-shower gaffes. Perfect as a bridal-shower game or gift, this may help you stop agonizing over those pesky vows and start planning what's really important—the wedding night! 2-100 players. 48 pgs. Party Girl: Who doesn't remember sitting with a friend during recess and filling in the blanks with silly or even forbidden words? Well, just like you, your favorite childhood word game has grown up and is ready to party with the big boys and girls! Adult Mad Libs addresses all those ridiculous topics that we take much too seriously and puts them into proper perspective.
---

The Best Bachelorette Games & Activities - $3.95
4 games for up to 8 people (tear off sheets), includes other game ideas.
---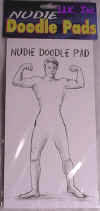 Male Nudie Doodle Pad - $2.50
Let your imagination run wild! Have a contest where the bachelorette chooses the best.
---

Complete The Willies Game - $3.99
Let's see all the girl's artistic side! Everyone has to draw the four different Willies, then the Bachelorette chooses a winner in each of the 4 categories. Each of the 4 winners have a Willie "Draw-Off" of their dream Willie. A winner is then chosen from the 4 finalists! Fun, outrageous, and a great game to get the party started!
---

Girls Night Out Card Game - $8.00
Girls like to get into trouble and here's a pack of cards that will do just that. Over 50 new and outrageous dares that will have you dropping your inhibitions (or your pants!) So whether it's a bachelorette's last night out, birthday party or just messing around town, this pack of Girls Night Out cards is sure to make you weak with laughter and bring men to their knees... Includes 50 cards, instructions, for 2 or more players. 4.5" x 3" pack.
---


Bachelorette's Dare to Have Fun Card Game - $6.98
Get everyone in the party to complete 50 crazy dares for points. The higher the points, the naughtier the dares.
---
Willie Challenge Card Games - $7.99
An outrageous new deck of cards that includes 5 fun card games to play! There's a bunch of different types of Willies on the face of these cards but they're also regular playing cards, so virtually any card game can be played! So much fun in such a small box! Includes Find that Willie, a scavenger hunt game where they have to get the guys to flash their Willie (or just describe it, if their kinda' shy)! The entire party must find different guys that match all the Willie types shown on the face of each card! Other games include Go Willie (similar to Go Fish), Crazy Willie (similar to Crazy Eights), Willie Match (similar to the classic Memory game), and Old Willie (similar to Old Maid)!
---

X-Rated Male Playing Cards - $9.99 Sale $8.49
Really high quality cards with modern totally hard hunks. These are not the kind of cheap cards that have old 70's - 80's looking guys.
---

Booby Dares Spinner Game - $6.99
Men spin the spinners and your bachelorette or birthday girl is the winner! Place the spinners over the guest of honor's nipples by fastening the adhesive tape on the back of the spinners to the guest of honor's shirt (over her nipples). Then she spends the rest of the evening approaching men and getting them to spin and carry out dares on her spinners!
---
Final Fling Spin-For-A-Dare Spinner Button - $4.98
She jut asks every guy to Spin for a Dare, then he has to complete whatever he spins! Fun for the entire party.
---

My Last Night Out Spin for A Dare Button - $4.98
Pin on her shirt of ball cap and ask every guy to spin for a dare!
---



Bachelorette's Last Night Out & Final Fling Trivia Party Napkins - $4.58 ea.
Each girl in the party has to fill out a semi-risqué questionnaire about the Bachelorette and her Groom-to-be. The questions are printed inside the fold of the napkin. Questions like "What is the nickname of his "you know what"?, and "Guess the size of his "you know what" makes this game hilariously fun! 25 napkin/trivia games - 2 ply, 5 x 5 inches.
---
Bachelorette Rating Cards - $5.50
10 cards from 10-Off the Charts! to 1-Total Loser.
---

Mr. Happy Balloon Making Kit - $3.49
Comes with stickers to make a combination of faces and three balloons to make an (ahem) anatomically correct "balloon."
---

Naughty Contest Ribbons - $8.70
Add a little fun to any bachelorette party that is rewarding as well. The bachelorette judges five contests where the participants are men whom her friends round up. Awards include Hottest Lap Dance, Craziest Trick, Sexiest Pose, Best Chest and Best Butt. Made of real satin ribbon, really nice quality. Each ribbon is about 3 x 1.5".
---

Award Ribbons - $2.25
Three award ribbons for the best party girl, flirt and drinker. Cute and colorful graphics.
---

Bachelorette Sexy Spinner Game/Card - $4.50 Sale! $2.99
For a final fling before the ring, spin the sexy spinner thing! Outside spinner can be popped out and used at a party or bar. Spinner has dares such as Bottom's Up, Give your bra to a bald guy, Get 3 Phone numbers, etc. Inside the card says, "Welcome to Reality! Have your fun while you can, the game is over, you lose!
---

Sex Detector - $5.00 6 pack
Just like the fortune fish, the penis tells you if you're hot or a limp fish. Hold it in the palm of your hand and see what your personality trait is by the way it moves, curls or stays still. Fun party game.
---

Measuring Tape Ribbon - $1.50 yd.
Use this ribbon for coming up with great guessing games like measuring a hunk's biceps, chest, and anything else!
---


Click Here for All Drinking Games
---
Lingerie makes a perfect gift! Click Here
Gifts & Games for Couples & Brides To Be, Click Here