Please read the important information below about using the shopping cart and its security. Order form is at the bottom to fill out if you have been instructed to go to this page or the cart is giving you problems.
The biggest problem we have with the cart is customers are not clicking the update button after entering a new quantity or removing items from the cart. Click the update button after entering a 0 to remove the item or enter the amount you'd like if it's more than 1 and click the update button. Read further down to get full explanation of cart use.
Until we get our new cart set up in the next few months, the cart we are using now will only let you put around 15 items in the cart. Please place a second order if you need more than 15 items. The cart will not bill you for two separate shipping charges, we will combine the two or more orders, just let us know via email that you are submitting several orders. We can also email you an order form. We're very sorry for the inconvenience this may cause.
All of your information will be kept confidential, we will never sell or give your name to another company and the shopping cart page is safe to use and secure with SSL* (Secure Socket Layers). It is best to use our shopping cart with current versions of browsers such as Netscape or Internet Explorer. Click for our Privacy Policy We have been in business on the internet since February 1998. We have never had a security breach. If you are still not confident in our secure shopping cart, please leave the last four digit of your card off and call or email it to us to complete the process. Our shopping cart does not automatically charge your credit card. We hand process your orders. You are responsible for the contents of your cart. By clicking the SUBMIT button at the bottom of the billing page, you have made an order and an administration/change fee may be charged if you need to make any changes or made a mistake. Please email us immediately if you encountered any problems or made a mistake.
We are a small company producing large volumes of orders and we really appreciate you using the shopping cart to place your order. In order for our company to run as smoothly as possible, we generally do not take phone orders unless it is a special order item that is not on our website. Thank you for understanding. If you'd like to email or send a Word document with an order, please email us for it or use the form below.

PayPal & Money Orders Welcome
To pay with PayPal wait for your emailed order confirmation and we'll send you a PayPal button. Send the amount due at the bottom of the invoice to our user ID customerservice@chocolatefantasies.com. We accept MasterCard, Visa, American Express and we prefer Discover Cards. If you'd like to pay by money order, please wait for your email order confirmation to arrive with your total and then send the money order to the address on the invoice.
The shopping cart we use is a third party cart. We have been using them since we opened in February 1998. They are certified secure and can be found at kickcart.com and cartdesigns.com.
Instructions for how to use the shopping cart:
First, if you are an international customer, on the billing page, you must select International Shipping from the shipping drop down menu and let us know in the Special Instructions box if you want First Class which takes around 2 weeks to arrive (no insurance or tracking, under 4 lbs and $50.00 US$) or Priority Mail which takes about 7 -10 days to arrive (tracking and insurance available) and Express Mail is 3-5 days with tracking and insurance. http://usps.com to get shipping costs. We add on $5.00 to shipping costs for each international order to cover the credit card and PayPal exchange rates and additional handling from the special forms we have to fill out.
1. After choosing an item that you would like to purchase, if applicable, select which flavor or style you would like to have from the drop-down menu.
2. Click on the 'Add to Shopping Cart' button and you will be taken to the shopping cart page. You will see the web address change to the shopping cart server at cartdesigns.com. Your browser will indicate that the site is secure.
3. The shopping cart page will show you what you are purchasing. If you would like to purchase more than one item, you may enter the quantity. Click the 'Update' button. If you would like to shop for more items, press "continue shopping" or use your "back" button which is faster and easier and you will be taken back to the same page you were last shopping from. The shopping cart will notify you that you are leaving a secure area and if you would like to continue. Just click 'yes' and your information is saved in the secure shopping cart until you return to it. You will be taken back to our website which will tell you it is not a secure site. Our site is not secure, the shopping cart is, that's why we use it.
4. If you are finished shopping you may click on the link at the bottom or side of our web pages that will take you back to the shopping cart.
5. Check to see that all of the items and quantities of each that you would like are listed. Click on the "submit" button only once or multiple orders will go through. You will then be taken to a form that requires what method of shipping you'd like, your shipping and billing address and payment information. IMPORTANT: If you go to the billing and shipping area and go back to our website, the shopping cart might clear out because it thinks you are finished shopping. Be sure you are done shopping before you click the submit button.
6. After filling the billing and shipping information out, click on the bottom button to process your order. By pressing the bottom button, you will be placing an order. Please do not play with the shopping cart to get shipping prices. Go to the shipping information page or email us for a quote. If you cannot proceed to the next page, it means that you did not enter a field. Always check if you put in the country, email address, etc. We ship all over the world, so you have to fill out the country space. After clicking the 'Submit My Order' button, you'll be taken to the confirmation page that has your order information. Click the next button to get your order number. Click 'Finalize' and you will be sent to our 'Thank You' page.
7. We will contact you usually within a few minutes to 48 hours to verify your order. If you have any questions or you did not hear back from us within 24 hours, please don't hesitate to call our office or send an email:
(800) 595-9936 Tel/Fax or within Washington 360.432.9130 Tel/Fax
Monday - Thursday 9:00 am to 4:00 pm PST, closed weekends and holidays, 1/2 day Friday - Thank you!
What is a CVV2 number?
MasterCard & Visa CVV2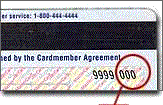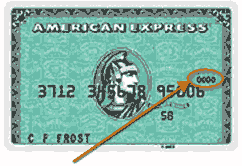 American Express CVV
It's a security code that is unique to your credit card.
What is *SSL Encryption
Secure Sockets Layer. A method by which information transmitted across the Internet is scrambled to the point where it's virtually indecipherable by anyone who should intercept the data before it reaches its destination. Most reputable online stores make use of SSL encryption to request credit card information and other sensitive data from their customers. Web pages where SSL encryption is activated are typically identified by a lock or key symbol displayed somewhere in your browser, usually at the bottom right. Refer to your browser's documentation for the specific symbol and location.