Click on pictures to enlarge - No wholesale on this page.
These Items Are For Sale All Year!

Happy Fucking New Year Party Pack - $14.50 Sale! $13.50

This is new for the season and we love it! This super fun colorful party pack for eight will make any bah-humbugger get into the party spirit! Contains eight of each: Cocktail plates, napkins, party horns, tiaras and balloons. Merry Christmas and happy fucking new year to you! Please order early as these sell out fast before the new year. More New Year Gifts.
---

Hide A Gift Pillow - $17.00 Sale! $16.15

Keep your secret pleasures private in the hidden pocket inside this Tease the Season Hide A Gift Pillow. Soft and luxurious valboa fabric. Use it to hide jewelry, condoms, gift cards, toys and naughty secrets. About the size of a small toss pillow.

$13.00 Sale! $12.35

Flip the mask to match your mood. Are you feeling naughty or nice? Tease the Season! O/S
---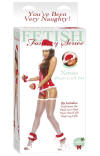 Holiday Plush Cuffs Kit - $33.00 Sale! $28.60

This kit has a plush Santa Hat, Love Mask, Hand Cuffs and Leg Cuffs - all in red plush with white fur trim. Both naughty men and women will look their holiday best bound to please his or her lover! Lingerie not included.
---

Merry Kissmas Kit - $19.99 Sale! $13.50
Packaged in a holiday bag, this popular and fun holiday kit is sure to be a hit for a single person, an established couple looking for something new and fun, newlyweds on their first Christmas or something to spice up your own Christmas tree. Contains 1oz. bottles and sample sizes of lubes, warming oils and balms, a game and other fun items. What is pictured is a close representation of what you'll get depending on what style kit you order.
---

Naughty Naughty Christmas Kit - $17.00 Sale! $15.99

The holidays season can be hectic, so what better way to unwind and indulge than with an adult-only, romantic holiday kit? Includes peppermint-scented massage oil, sexy Santa hat, fuzzy handcuffs, two 'Santa stops here' removable tattoos and a 32 page book full of creative and festive ways to heat things up around the holidays.
---

Merry Fucking Christmas Candy Box - $7.25

These candies are sure to get you onto Santa's NAUGHTY List! Each 3.6 oz box that measures 5.75" x 4.25" x 3/4" has a bag of tutti frutti flavored candies inside that are printed with assorted naughty holiday phrases such as: Horny Holidays!, Naughty Noel!, Merry Fucking Christmas!, Jingle Balls!, Merry Sexmas!, Santa's Cumming, etc.

X rated holiday greeting mints with a jumbo peppermint inside. Each packet has a naughty or rude message as shown including: Merry SEXmas, Jingle Balls, Naughty But Nice, A Lay In the Manger, Oh Horny Night, Naughty Noel and Santa's Cumming. Fun to include with Christmas cards, stocking stuffers or leave on someone's desk at work.
---

Sexy Santa Clause Apron - $15.99
Santa Clause is happy to see you with his bulging package! Made of cloth. Sexy Mrs. Clause apron is our of stock, not getting more, sorry.
---

The Cookie Sutra - $9.20 Sale! $7.95

Clever and very cute take on the Kama Sutra with illustrations of the positions demonstrated by two adventurous, and very happy, gingerbread cookies! Even has a recipe to make your own cookies. Spice up your holidays with this little book.

Soft cover - 60 pages, adorable color photos
---

Santa & Mrs. Clause Naughty Placemats - $2.00 Closeout
---

Adult Mistletoe & Condom - $2.50

Because you never know what a kiss will lead to! Red condom with plastic mistletoe. Novelty.















X-Rated Christmas Ornaments - $8.50 to $15.00 ea.

What a nice surprise for your Christmas tree, table decoration or fireplace mantle. Fun to tie onto a gift package Made of hand painted poly-resin. All about 4 - 5.5 inches tall. Please try our XRated Ornaments with Chocolate. Ornaments are hand-painted and may vary slightly from one to another. If you order an out of stock ornament we will give you a substitute of something similar. Out of stock ornaments might come into stock next year, but you can check back periodically.

Penis or Boobie X-Mas Ornaments - $2.89 ea.

Sparkling pecker or boob ornaments for your tree or for fun to tie on a package. Available in red and green, let us choose for you.
---


Cockattoo Temporary Penis Tattoo/Sleeve - $7.50 Sale! $6.55 ea.

The Original Cockattoo the world's first and only temporary shaft sleeves. Goes on hard stays on soft. Wear it till you share it! All Cockattoos are performance tested hypo-allergenic non-toxic water-based lube safe. Shaft sleeves measure 5" and can be trimmed to fit as needed. Get some cock-a-tude!
---
Don Wand Glass Candy Cane Dildo with Bonus! - $41.25 Sale! $35.99

This beautiful glass dildo is shaped like a candy cane and will make your spirit bright! Glass feels great and smooth, is so easy to clean and is compatible with any kind of lube, no allergic reaction to glass. Includes a really cool padded pink drawstring storage bag and lube sample pack.
---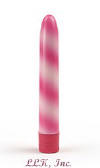 Candy Cane Vibe - $15.00 Sale! $13.99

Waterproof, multi-speed, 6 inch vibe. Takes 2 AA batteries, not included.
---
Christmas Tuggie
- $11.00 Sale! $8.99

The fuzzy sock that warms your cock!

Click here for the original Tuggie.
---

Unwrap Me
Satin Bow Teddy - $15.00 Sale! $13.99

Adorable one-piece satin bow teddy available in two sizes. Perfect for any occasion, not just Christmas. More adorable holiday undies and lingerie.
---
Ms. Clause Vibrating Panty Gift Set
- $29.99 Sale! $12.49

Adorable candy cane pasties and panty set. The panties fit most sizes as they have side ties. They're adorned with marabou feathers on the top edge with a red bow in front and a garnish of mistletoe in just the right spot for a kiss! Vibrating micro mini fits into the panty's hidden compartment. More adorable holiday undies and lingerie.
---

Deck the Halls with Alcohol 3 Shot Glass Set - $11.00 Sale! $9.99

Three plastic shots set include a black boot, a stocking and a Santa hat.
---

Sexy Santa Mug - $6.30 Sale! $5.99

This detailed plastic mug has a three dimensional Santa who has lost his drawers and has a surprise for you! Fun to fill with chocolates for a gift or pens on your desk.
---

Jolly Jumping St. Prick - $3.45 Sale! $2.99

Wind him up and he jumps all around.
---
Naughty Stockings - $16.00 Sale! $14.49 ea.

Have you been naughty or nice? Either way, you get something nice and naughty in your stocking this year! For her is filled with a penis lollipop, a feather tickler, sexy favor coupon book, naughty scratch & win ticket, bedroom dice game and nipple gloss. For him is filled with favor coupon book, scratch & win ticket, bedroom dice game, feather tickler, candy cock ring and a booby lollipop. More Stockings & Stuffers

These are out of stock, but if you order it we can make you one fairly close to what is shown from our own stock.
---


High Heel Christmas Stockings - $6.49 ea.

Beautiful fuzzy Christmas stockings ready to hang on the mantle and fill with special gifts. Available in black or red. If one color is out of stock and you order it, you will get the other color.

Click for Stocking Stuffers
---

Sequined Stocking - $14.50 Sale! $12.99

20 inch red vinyl boot shaped stocking with silver sequined cuff. This is actually way cuter than the picture shows.

Click for Stocking Stuffers
---


Red or Black Vinyl High Heel Christmas Stocking - $13.00 Sale! $10.49
Who's been naughty and is still going to get all the presents? Very sexy vinyl with furry trim stocking to hang by the chimney with care. 11" in Black or Red.
Click for Stocking Stuffers and Male Fetish Boot Stocking
---


Penis and Booby Stockings - $12.00 Sale! $9.99 ea.
Full sized stockings ready to fill up with naughty things for your lover!
Click for Stocking Stuffers
---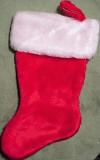 Holiday Stocking Filled with Naughty Fun

Filled to the brim with lots of fun toys, candy and treats with risqué and x-rated themes! Hang this stocking by the chimney with care and you know you'll get a big smile from the recipient knowing that Santa really does exist for bad girls and boys! Picture is a representation of what you might get.
---

Red and Green Dual Color Condom Pops - $1.25 ea.

Two toned latex condom for holiday cheer! Lubricated. Made by Trustex.
---

Red and Green Dual Color Condoms - $1.50 3 pack

Two toned latex condoms for holiday cheer! Lubricated. Made by Trustex.
---

Holiday Condom Boxers - $15.00 Clearance Sale! $7.99

Fun red and green condoms fill convenient little pockets (one for each day of the week) for these novelty boxers. One size fits most. More Christmas Undies & Lingerie for Guys
---

Light Up Blinking Pecker Santa Hat - $8.75

This plush Santa hat has five little pink peckers that brightly when turned on. Includes battery with on/off button. One size fits most.
---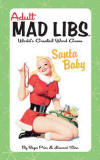 Adult Mad Libs - Santa Baby - $3.99

An adorably sexy edition of our wildly succesful series of Adult Mad Libs. If you just heard someone say...

"No matter what Santa says, sometimes it's more fun to be naughty than (ADJECTIVE)! So this holiday season, put on your best (ARTICLE OF CLOTHING), grab a glass of sparkling (TYPE OF LIQUID), and let loose. After all, it is the most (ADJECTIVE) time of the year. ...you've obviously been playing Adult Mad Libs.
---

I.O.U. A Merry Sex-Mas Coupon Book - $4.80

Make every night of your holiday a naughty one with these 25 gifts. Make the mistletoe much more fun with this ultimate stocking stuffer! 6 x 3"
---

12 Days of Christmas Coupon Book - $2.50

Something for the naughty stocking! Who cares what is under the trees, what's is between the sheets is all that matters! Each coupon offers a sexy surprise for you and your partner for the 12 days before Christmas.
---

Holiday 'Treats' Coupon Book - $4.50
12 coupons for adventurous lovers.
---

Peppermint Tingle Gele with Free Vibrating Surprise - $11.70 Sale! $11.15

Spice up your Secret Santa gift exchange this year with a naughty little surprise or stuff into a stocking. 2 oz jar with free vibrating surprise inside that we're not supposed to tell you what it is (Uses 1 cell battery that's included).
---

Emotion Lotion Candy Cane Flavor - $7.49

The original flavored warming lotion in candy cane flavor. Gets warm when you rub it, hot when you blow on it. Water based, condom compatible, may be used on any part of the body for sensual play. 4 oz flip cap bottle.
---


Erotic Couples in Winter Holiday Boxes and Tins

Click Here for Naughty Holiday Chocolates!
---
Yellow Snow - $2.95

They always say "Don't eat yellow snow." Now you can. Our crunchy lemon rock candy is fun to eat or you can add to your tea. Great for stuffing stockings, a gag gift for dog lovers or winter sport enthusiasts. 2.5 ounce bag.
---
Naughty & Nice Shots & Napkins

Festive merry message napkins in several styles to choose from, 16 3 ply 9 7/8 x 8 7/8". Plain red matching plates, 20 7" plastic. Pictures left are matching acid free stickers, 4 sheets per pack.
---
Merry Messages Holiday Tableware - $3.25 ea.

Festive merry message napkins in several styles to choose from, 16 3 ply 9 7/8 x 8 7/8". Plain red matching plates, 20 7" plastic. Pictures left are matching acid free stickers, 4 sheets per pack.
---

The 12 Drinking Games of Christmas - $9.99

... Because there's no better way to survive the holiday. 12 ames include such titles as Jigger Bells, Drink All Ye Thankful, Frosty the Alcoholic, Do You Drink What I Drink?, Silent Night, Holy Crap! and more. 3 - 10 players
---

Merry Fucking Christmas Holiday Shooter - $6.99

4 shots to make your holidays happier! Whenever you feel down about the holidays, do a shot such as the Ginger Snap, Candy Cane, Mistletoe Kiss and X-mas Cookie. 3 oz glass.
---

Drinking Dreidels
- $8.00 Sale! $3.99

Plastic dreidels to spin and play a fun drinking game.
---

Adult Christmas Crackers - $26.99 pack of 6

Not for kids! These specially made crackers have the usual paper crown and snap when you pull the ends, but they also have an adult treat such as tasty lube or a flavored condom, a Christmas AmuseMint peppermint candy with fun holiday message and a little chocolate. If you've purchased regular crackers, you know that this is a great price! Wrapped in pretty tissue and tied with beautiful ribbon. Tissue color may vary, but will be elegant. 11 inches long.
---

Peppermint Edible Candy Undies are great for Christmas!


Adult Christmas Gift Wrap & Bags
Click Here for Naughty Holiday Chocolates
Click Here for Stocking Stuffers!
X-Rated Christmas & Hanukkah Cards
---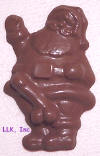 Click Here for Naughty Holiday Chocolates & Candy!


More Adult Christmas Gifts & Treats