Click on photos for detail

Happy Divorce Chocolate Bar - $8.50
A huge piece of chocolate to make anyone smile during the worst of times. Gift boxed, tied with stretch ribbon, 6 ounces. Requires cooler pack during warm months.
---

Bandaged Heart Lollipop - $2.50

A nice chocolate gift to anyone who is recovering from a broken heart. Poly bag, tied with ribbon, 1 oz. Requires cooler pack during warm months.
---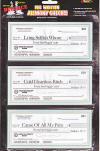 Alimony Checks to Her from Him - $5.00

Pre Written alimony checks with three sayings. Checks are made out to: Pay to the of Lying Selfish Whore, Cold Heartless Bitch and Cause of All My Pain in the amount of Every Last Friggin' Cent! There are about 24 checks in each pack. Just date and sign, pre-ass wiped at no extra cost, saves lots of time!
---

Breakup Bopper - $15.00 Sale! $12.00
Has that cheating ex of yours left a bad taste in your mouth? Tired of the lies, games, and headaches that come with dealing with your ex? Have you ever fantasized about reaching over, winding up and bopping them one whenever you felt like it? Well nowís your big chance! Introducing the Unisex Breakup Bopper, the inflatable stress reliever designed to ease the pain of breaking up! Just add air, insert your favorite picture of your least favorite person into the 8.5 inches by 11 inches plastic sleeve and bombs away! The 5 foot bopper becomes a life-size punching bag for you to take out all of your pent up anger on! Curse at it, yell at it, punch it, kick it! Let your ex know how you really feel about them without the hassle of dealing with lawyers or those pesky restraining orders! Perfect for all parties. Also makes a great gift for in-laws, and bosses
---

Bad Girlfriend Voodoo Doll - $13.00 - Sale! $10.00

Sayings on front side of doll: Donít use the ďheadacheĒ excuse, Quit bitching, Show me you love me, Stop nagging, Donít criticize my friends, Get me a beer, Go to the mall by yourself, Letís have sex, Letís have sex again, Stop spending money, Letís have fast food for dinner, Sex is over so you can go home now, Wear only high heels to bed. Sayings on the back of doll: Donít think about other men, Donít call me 10 times a day, Scratch my back, Donít pester me on poker night, Give me a ďthoroughĒ massage, Help me work on the car, Pop my back pimples, Letís go to an action movie, Letís do it doggie-style, Stop eating like youíll never be single again, rub my stinky feet, Donít kick my friends out.
---

Inflatable Wife - $15.00 Sale! $13.25
Cute blond with bikini top and boy short bottoms. She never complains, wont empty your bank account, loves TV sports, won't make you go shopping and won't tell you to take out the trash. About 3 feet tall, no holes. More Inflatable Wife and Perfect Date blow up dolls here!
---

Black Long Stem Chocolate Rose
Wrapped in black foil atop a long stem with silk leaves. - .75 ounces
---
Three Milk Chocolate Cigars - $7.50
These look incredibly real, perfect for any celebration. 3 ounces Kosher D - Gift boxed, tied with stretch ribbon as shown. No wholesale
---

Box of 12 Milk Chocolate Cigars - $29.50
These look incredibly real, perfect for any celebration. 12 ounces Kosher D - Boxed as shown, no ribbon. No wholesale
---

Gold Foil Milk Chocolate Cigars

Solid milk chocolate molded 3/4 oz. cigars, wrapped in gold foil with the traditional band printed around the cigar. Full case arrives in 8 wood-like gift boxes containing 2 layers of 12 cigars each. Also available in box of 24. A sweet way to celebrate any occasion without the smoke --- masculine or feminine, Fathers Day, Anniversary, baby, Boss's Day, everyday, thank you, wedding desert tables, teacher, graduation, Sweetest Day.
---

Party Survival Baseball Cap - $13.00
Perfect for bachelor's last night out, birthday boys, Spring Break, break ups, Mardi Gras, college frat party, etc. Just remove the middle button if it's not a bachelor party. Adjustable blue cap.
---

Hanging Party Shots - $2.50 ea.
Fun shot glasses for almost any occasion. Pink from top line says: Hell Yes, Maybe, No. Blue says: Married, Divorced, Single. Yellow says, Back Door, Front Door, Oral. Plastic with black neck cord.
---

Divorce Card - $2.95
Outside - Things have been NUTTY . . .
Inside - Marriage wasn't what it was cracked up to be. Congratulations on your divorce.
---

Divorce Card - $2.95

Outside - Heard about your divorce

Inside - No wonder they threw minute rice at your wedding
---