Adult Candy & Treat Mix - $27.99
Perfect for piñatas, stocking stuffers, swingers' parties or just because you couldn't resist. A big gift bag tied with ribbon contains (but is not limited to): Edible flavored lube, chocolate body sauce, flavored condoms, assorted female and male gummy and hard candy lollipops, AmuseMints with naughty messages and related fun candy with plays on titles such as: Big Hunk, Blow Pops, Now and Later, bubble gum & candy cigarettes, Licorice Pipes, candy lipstick, coconut Long Boys, Red Hots, Hot Tamales, Slap Sticks, Bit-o-Honey, Atomic Fire Balls, Wax Lips, Sugar Daddy, gummy lips, Sweet Tarts, Slo Poke, gummy cock ring, etc. Choose for a mixed adult party or just for guys, gals, gay guys or lesbians. Approx. 1 pound, 13 oz.
---

Pin the Boobs on the Babe Game - $10.99
Crazy selection of stick-ons for her boobs. Don't forget the booby mask below!
---

Female X-Rated Playing Cards - $9.56 Sale! $8.32
There'll be no bluffing with a hand of these at your next poker game! Pack design may vary. Most of these cards are pretty tasteful, not really raunchy.
---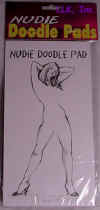 Female Nudie Doodle Pad - $2.50
Let your imagination run wild!
---

Booby Match - $26.91 Sale! $19.99
Match the pairs to win, but it's not as easy as it seems. A good eye for details is needed to acquire the necessary skills to become an expert! Each card from the pack features either a left or right boob, plus and extra, cheeky card - the joker. Three exciting games in one: Booby Match, Fishing for Points & Twin Set and Match. King sized cards can also be ued for playing regular card games.
---


Boobie Challenge Card Games - $7.99
An outrageous new deck of cards that includes 5 fun card games to play! There's 52 different types of boobies on the face of these cards, but they're also regular playing cards, so virtually any card game can be played! So much fun in such a small box! Includes Find these Boobies, a scavenger hunt game, where they have to get the girls to flash their Boobies! The entire party must find different girls that match all the Boobie types shown on the face of each card! Other games include Go Boobie (similar to Go Fish), Crazy Boobies (similar to Crazy Eights), and Old Boobies (similar to Old Maid)!
---

Dirty Words - $17.49
This is a fun game to play in private with your lover or a whole group of adults. Includes a dice cup, a 3 minute timer and 23 word cubes with innumerable sentence combinations to play.
---

Dirty Minds - $24.49 Sale! $22.36
The game of naughty clues for two or more. Filthy clues point toward the most innocent of answers. Nothing is as dirty as it seems! 912 naughty clues, 304 clean answers, 50 game cards, 4 puzzle booklets & 4 pencils
---

X-Rated Trivia - $11.50 Sale! $10.50
For 2 to 8 players. To win, your tactics have to be 'below the belt' as well as your knowledge.
---


Click Here for All Drinking Games

Totally Loaded Party Kits
---
Bachelor Greeting Cards Click Here for Wrapping Paper
Boobie Cake Pans, Cookie Cutters & Candles
Mugs, Shot Glasses, Straws & Ice Cubes & Tableware
Gummy Boobs, Tit Tax, Peppermint Nipples, Pasta Boobs, Booby Cookies, Gummy Pussies & Butts
Party Prizes & Novelties, Sexy Golf Tees, Naughty Pens, Pussy Soap-On-A-Rose & Lots More
Don't Forget the Wrapping Paper & Gift Bags!
Don't forget the Erotic Chocolates & Lollipops! Click Here