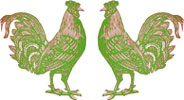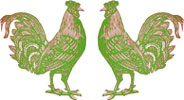 Chez Poulet
The Coop is Mostly Done!

The Peeper Street Gang
No chickens were harmed in the making of this photo.
If you want to know how this was done, Larue will have to kill you.
Super Chicken!
The day before I left for the Monterey Jazz Festival, I had to come up with something for Opal to wear for the occasion. Well, actually, she was being picked on and had a big raw spot at the top of her tail area (the saddle). When I came back almost a week later, she still had it on and didn't seem to mind wearing it and the picked at spot was totally healed. I'll take the cape off when the feathers have grown back.
The First Egg!
One of the black stars laid an egg on the floor Sept. 10, 2008

My birthday card from Harpy Larue

Photos copyright © 2008.
lorikessler at hughes dot net